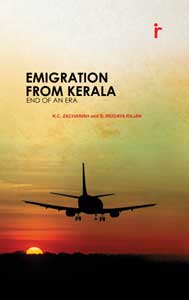 Emigration from Kerala: End of an Era

by K.C. Zachariah and S. Irudaya Rajan

2018 /  274 pages / Hardback / Rs 995
ISBN (10): 8193439015
ISBN (13): 9788193439012

Kerala Migration Survey (KMS) 2014 was conducted covering 15,000 households across the state of Kerala. The results of this round of KMS were largely on the expected lines as the state was preparing itself to deal with the prolonged aftershocks of the 2008 global financial crisis on migration.
Surprisingly, variables by which migration is measured, such as the number of emigrants and remittances, shot up when compared with the values observed in the past. This survey gave a clear picture of the migration in Kerala, putting all speculations and doubts rest.
The results of KMS 2011 revealed several signs of impending decline in emigration from the state. Why did the prediction of a decline not happen? The 2011 analysis would have missed out some factors that determine emigration trend. What are those missing factors?
Moreover, remittances in 2014 were about 40 percent higher than that of 2011. The increase in emigration during the same period was only 5 percent. There should be factors other than emigration that determine the trend in remittances. What are those factors?
This book tries to find out those factors and examines the related trends of emigration from Kerala.
Table of Contents
Preface and Acknowledgements
Overview
1. Introduction
2. Demographic Background
3. International Migration
4. Internal Migration
5. Characteristics of Migrants
6. Remittances
7. Employment and Unemployment
8. Impact of Migration on the Contemporary Demographic Transformation in Kerala
9. Panel Data Analysis in Kerala Migration Surveys, 1998–2013
Prologue
References
Further Readings
About the Authors
K.C. Zachariah is honorary fellow at the Centre for Development Studies, Thiruvananthapuram. A former deputy director of the International Institute of Population Sciences (Mumbai), expert in demography at the UN's Cairo Demographic Centre, and senior demographer at the World Bank (Washington, D.C.), Zachariah has widely published on migration and fertility, including two books on demographic transition in Kerala.
S. Irudaya Rajan is professor at the Centre for Development Studies, Thiruvananthapuram, with more than three decades of research experience on migration and demographic dynamics. He has published extensively in national and international journals on demographic, social, economic, political, and psychological implications of migration. Rajan is the founder Editor-in-Chief of the journal Migration and Development.