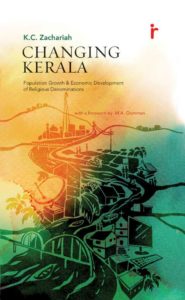 Changing Kerala: Population Growth and Economic Development of Religious Denominations

by K.C. Zachariah
2017 /  220 pages / Hardback / Rs 795
ISBN (10): 8193439007
ISBN (13): 9788193439005

"a dexterous blending of census data with the survey data"
  – M.A. Oommen (economist)
In 1951, the Census of India stopped providing information on religious subdivisions. Since then, data on castes, denominations, and sects have been hard to come by.
In this pioneering study based on the Kerala Migration Surveys, K.C. Zachariah estimates the demographic and socio-economic characteristics of religious communities in Kerala, and fills the void for the state in recent years.
Collating data on seven Hindu castes, nine Christian denominations, and two Muslims sects, the author examines, among other things, the geographic distribution, age structure, education levels, migration, remittances, and household economic conditions of communities.
His Index of Development Benefit and population projections up to 2051 give us a peek into Kerala's future.
Rich in data and filled with nuggets of information, the book provides empirical evidence for policymaking and meaningful discussions on the changing demographic and socio-economic landscape of Kerala.
Table of Contents
Foreword by M.A. Oommen
Preface
1. Demographic Background
2. Hindu Castes: A History
3. Christian Denominations: A History
4. Muslim Sects: A History
5. Population Growth of Communities Pre-Independence
6. Population Growth of Communities since 2000
7. Geographic Distribution
8. Demographic Profile
9. Socio-economic Profile
10. Migration
11. Remittances
12. Economic Levels of Households
13. Development Indicators
14. Conclusions
Appendix 1: Emerging Trends in the Religious Composition of Kerala's Population
Appendix 2: Index of Development Benefit
Appendix 3: Population of Taluks in Kerala by Religion, 2001 and 2011
Bibliography
Index
About the Author
K.C. Zachariah is honorary fellow at the Centre for Development Studies, Thiruvananthapuram. A former deputy director of the International Institute of Population Sciences (Mumbai), expert in demography at the UN's Cairo Demographic Centre, and senior demographer at the World Bank (Washington, D.C.), Zachariah has widely published on migration and fertility, including two books on demographic transition in Kerala.